Springbrook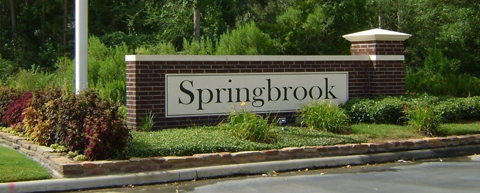 WELCOME TO THE SPRINGBROOK HOA WEBPAGE
Springbrook, a deed restricted community, was established in 2004 and is located in the charming suburban setting of Spring, Texas. It is located North of Houston between TC Jester and Kuykendahl at FM 2920, is minutes away from four major freeways, The Woodlands, Old Town Spring and Tomball. Springbrook offers a country lifestyle without all the hustle and bustle of the major city. Although the community is large (566 homes) and consists of seven sections and it is a close-knit, family community.

If you wish to send an email directly to the board, please email springbrookhoa77379@yahoo.com.


PAY YOUR ASSESSMENT ONLINE
Pay by credit card or electronic check at: www.officialpayments.com
(a convenience fee will be charged by Official Payments)
News & Announcements
Annual Meeting
The annual homeowners meeting will be held on January 11, 2017 at 7:00pm at Benignus Elementary School. Meeting notices have been mailed to all homeowners. Please plan to attend.
Facebook Page
The board has set up a Facebook page for homeowners to use and communicate. Please join the group by searching for "The Springbrook Word".
Report a Streetlight Outage
Anyone can report a streetlight outage or other streetlight problem by calling Centerpoint Energy at (713) 207-2222 or on their website at
www.centerpointenergy.com/outage.
Please have the 6-digit pole number and closest address available when reporting the outage.
Community Files

Articles of Incorporation
(659KB)

Deed Restrictions
(1920KB)

Deed Restrictions - 1st Amendment
(198KB)

Deed Restrictions - 1st Supplement
(154KB)

Deed Restrictions - 2nd Supplement
(696KB)

Deed Restrictions - 3rd Supplement
(618KB)

Bylaws
(1208KB)

Bylaws - 1st Amendment
(501KB)

Policy Resolutions
(1787KB)

2013 HOA Meeting Minutes
(96KB)

2014 HOA Meeting Minutes
(153KB)

2015 HOA Meeting Minutes with Handouts
(4310KB)

2016 1st HOA Meeting Minutes with Handouts
(758KB)

2016 2nd HOA Meeting Minutes
(162KB)

2012 Board Meeting Minutes Archive
(181KB)

2013 Board Meeting Minutes Archive
(179KB)

2014 Board Meeting Minutes Archive
(529KB)

Board Meeting Minutes - Feb. 12, 2015
(154KB)

Board Meeting Minutes - Feb. 26, 2015
(150KB)

Board Meeting Minutes - May 28, 2015
(154KB)

Board Meeting Minutes - June 8, 2015
(151KB)

Board Meeting Minutes - August 4, 2015
(155KB)

Board Meeting Minutes - September 10, 2015
(187KB)

Board Meeting Minutes - May 26, 2016
(152KB)