Springbrook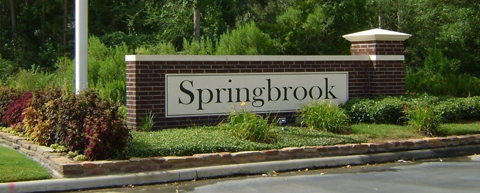 WELCOME TO THE SPRINGBROOK HOA WEBPAGE
Springbrook, a deed restricted community, was established in 2004 and is located in the charming suburban setting of Spring, Texas. It is located North of Houston between TC Jester and Kuykendahl at FM 2920, is minutes away from four major freeways, The Woodlands, Old Town Spring and Tomball. Although the community is large (566 homes) and consists of seven sections, it is a close-knit, family community.

Please email info@acmimgmt.com if you have any questions.


PAY YOUR ASSESSMENT ONLINE
Pay by credit card or electronic check at: http://acmimgmt.com/payments.html

News & Announcements
Board Meeting
The next meeting of the Board of Directors will be at the time and location listed below. Homeowners are welcome to observe the meeting and there will be discussion period at the beginning of the meeting. The agenda will include a review of officer elections, financial reports, association operations, and an executive session to discuss collections and other private matters.
Date - March 28, 2018
Time - 7:00 PM
Location - Dennys at FM 2920 and TC Jester
Annual Meeting and Elections
The 2nd Annual Meeting will be held on March 1 at Benignus Elementary at 7:00pm. A meeting invitation will be mailed to all homeowners prior to the meeting. Please plan to attend the meeting or return your proxy/absentee ballot.
Meeting Minutes
Minutes from the First Annual Meeting on January 29, 2018 are not posted to the webpage.
Facebook Page
There is a Facebook page for homeowners to use and communicate. Please join the group by searching for "The Springbrook Word". This page is not monitored or endorsed by the Board but is intended to connect homeowners with their neighbors.
Report a Streetlight Outage
Anyone can report a streetlight outage or other streetlight problem by calling Centerpoint Energy at (713) 207-2222 or on their website at
www.centerpointenergy.com/outage.
Please have the 6-digit pole number and closest address available when reporting the outage.
Community Files

Articles of Incorporation
(659KB)

Deed Restrictions
(1920KB)

Deed Restrictions - 1st Amendment
(198KB)

Deed Restrictions - 1st Supplement
(154KB)

Deed Restrictions - 2nd Supplement
(696KB)

Deed Restrictions - 3rd Supplement
(618KB)

Bylaws
(1208KB)

Bylaws - 1st Amendment
(501KB)

Policy Resolutions
(1787KB)

2016 1st HOA Meeting Minutes
(758KB)

2016 2nd HOA Meeting Minutes
(162KB)

2013 HOA Meeting Minutes
(96KB)

2014 HOA Meeting Minutes
(153KB)

2015 HOA Meeting Minutes
(4310KB)

2017 1st HOA Meeting Minutes
(110KB)

2017 2nd HOA Meeting Minutes
(92KB)

2018 1st HOA Meeting Minutes
(349KB)

2018 2nd HOA Meeting Minutes
(131KB)

2012 Board Meeting Minutes Archive
(181KB)

2013 Board Meeting Minutes Archive
(179KB)

2014 Board Meeting Minutes Archive
(529KB)

2015 Board Meeting Minutes Archive
(1107KB)

2016 Board Meeting Minutes Archive
(592KB)

2017 Board Meeting Minutes Archive
(474KB)