Springbrook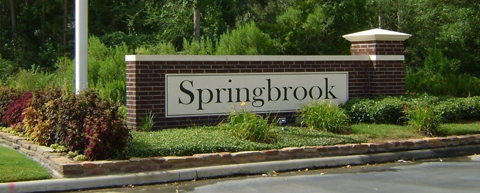 SPLASH PAD SURVEY
The HOA board is trying gathering feedback from homeowners about the planned splash pad to be installed at the park. Please take this short survey to let the board know your opinion. Please click the following link: https://www.surveymonkey.com/s/splashpadsurvey

WELCOME TO THE SPRINGBROOK HOA WEBPAGE
Springbrook, a deed restricted community, was established in 2004 and is located in the charming suburban setting of Spring, Texas. It is located North of Houston between TC Jester and Kuykendahl at FM 2920, is minutes away from four major freeways, The Woodlands, Old Town Spring and Tomball. Springbrook offers a country lifestyle without all the hustle and bustle of the major city. Although the community is large (566 homes) and consists of seven sections and it is a close-knit, family community.

News & Announcements

-The 2015 Annual Meeting is scheduled for January 22 at 7:00pm. The meeting will be held at Benignus Elementary School. Meeting invites will be mailed to all homeowners two weeks prior to the meeting. Please plan to attend or submit a proxy/absentee ballot if you cannot attend.

-The board has set up a Facebook page for homeowners to use and communicate. Please join the group by searching for "The Springbrook Word".
Community Files

Articles of Incorporation
(659KB)

Deed Restrictions
(1920KB)

Deed Restrictions - 1st Amendment
(198KB)

Deed Restrictions - 1st Supplement
(154KB)

Deed Restrictions - 2nd Supplement
(696KB)

Deed Restrictions - 3rd Supplement
(618KB)

Bylaws
(1208KB)

Bylaws - 1st Amendment
(151KB)

Policy Resolutions
(1787KB)